Better Community Access
Council chambers across the U.S. continually seek ways to improve their services and provide better access for their residents, staff, and council members. Technology upgrades play a crucial role in achieving this goal by providing access to new tools and resources that streamline processes, improve communication, and enhance decision-making.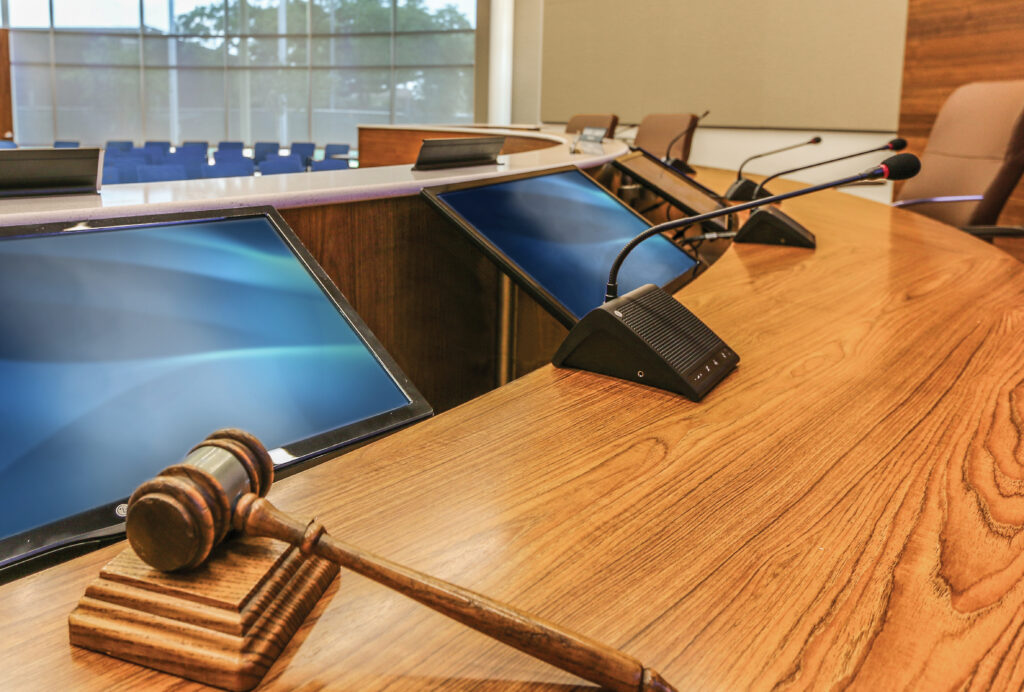 Improving Community Engagement
While health concerns are prevalent, citizens are left grappling for alternatives to attending or presenting at government meetings. This has given way to an elevated need to quickly provide better and easy access to residents using specialized technology solutions.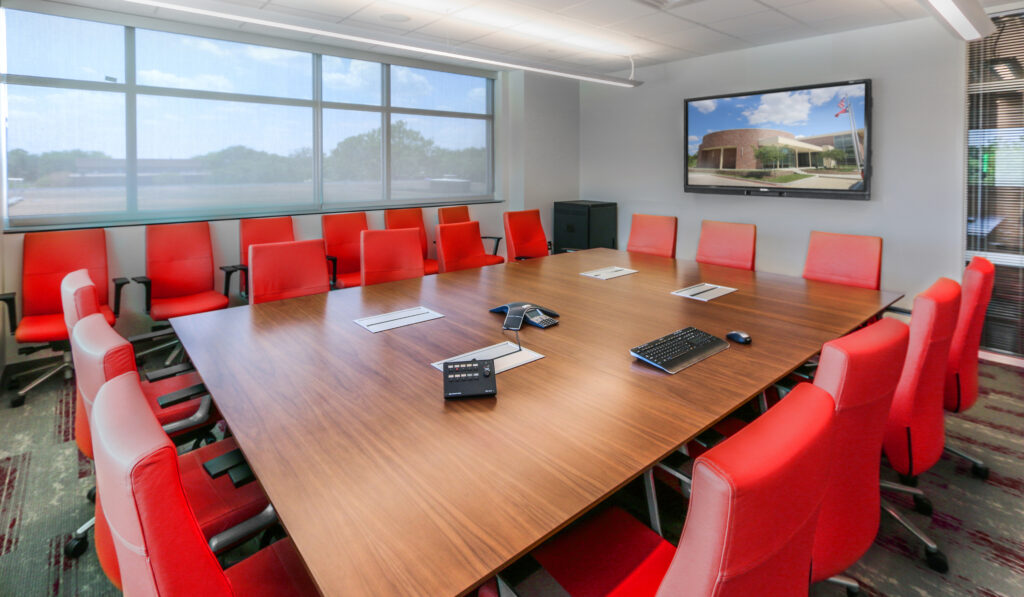 Voting & Voice Lift Stations
In legislatures, international conferences, or executive boardrooms, the process of exchanging ideas and opinions, begins by having key delegates talk and be heard. Speaker/ Mic/Voting stations capture and deliver sound (and video) to individual council members for clear, intelligible sound.
IT Services
It all starts with the network. From servers to wireless access points, Ford AV has certified engineers trained in network system design to ensure your network is stable and secure.
Security
Safety is top-of-mind in government buildings and campuses, using solutions like Command & Control Systems, Emergency Communications, Mass Alerts, Monitored Sound Reinforcement, Video Surveillance, and Access Control.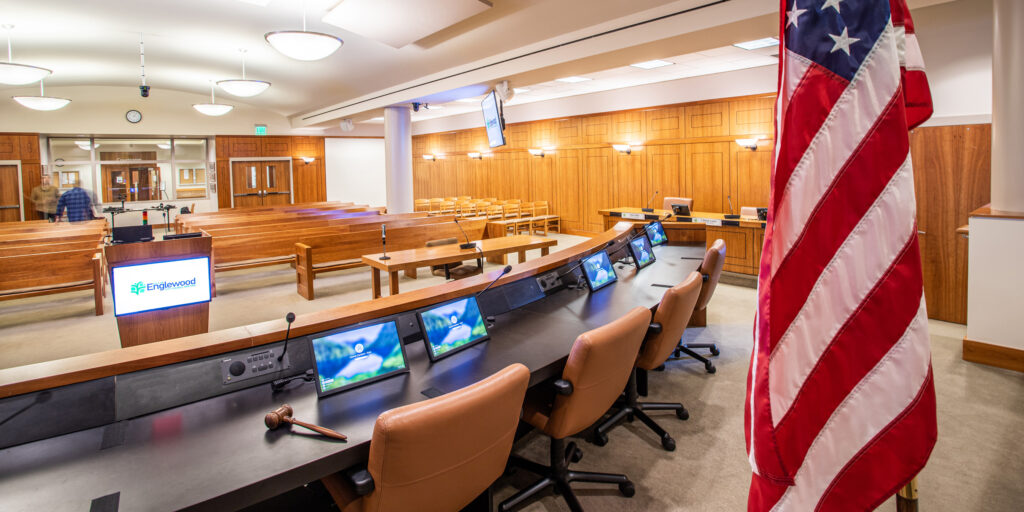 Displays
From video walls and direct-view LEDs to large video displays and video projection, Ford AV has the right video display solution for your application.
Integrated Control
Today's meeting rooms contain multiple cameras, microphones, presenter tools, displays and more. Custom-programmed integrated control panels help make a complex technical system easy to control by users.
Video Broadcast
Whether pre-produced programming or live council meetings, constituents require broadcast-quality content using installed production equipment that is unobtrusive.
Residents attending municipal meetings require convenient and reliable access on any platform or device, both for viewing and presenting from anywhere.
City of Dacono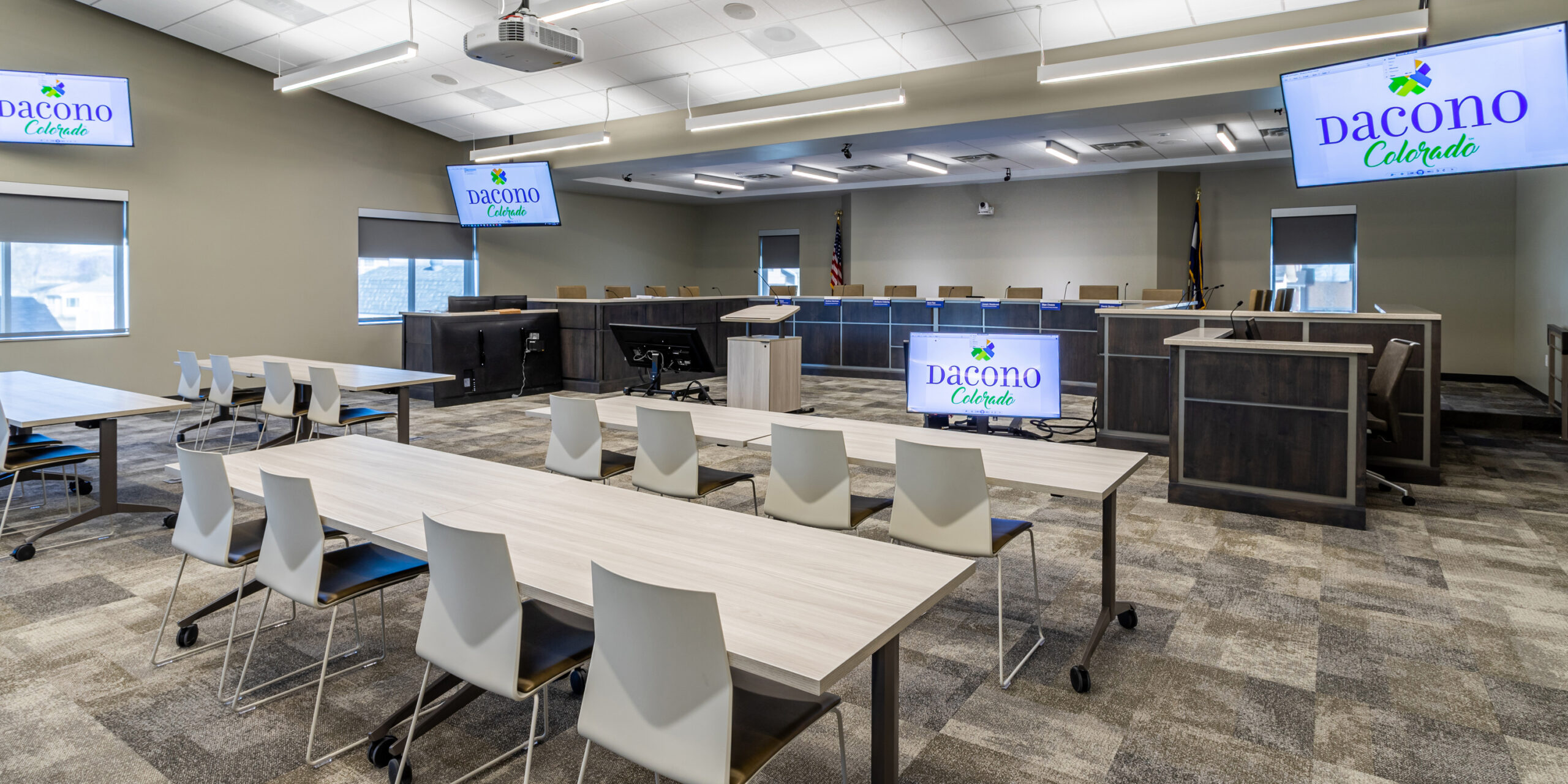 The City of Dacono is in one of Colorado's fastest-growing counties. Their rapid expansion has given way to a new city hall featuring the latest technology to accommodate the increased demand for remote access to court/city council meetings.
"Some members of the council and of the public feel uncomfortable participating in person, which required a hybrid option." said Jordan Eichem, Assistant City Manager.
Many members of the public were satisfied watching a video stream; however, that did not provide the ability to present remotely. Since most of the public and council members were accustomed to either Microsoft Teams or Zoom platforms, the system needed to accommodate both platforms simultaneously.
Ford AV engineers accomplish this by using a custom HD system design. Jordan continues, "I am very pleased with the functionality of the hybrid meeting setup. We looked at models of other council chambers and thought, 'that's what we want. We want something that looks nice. That's going to be impressive.' And we got that!"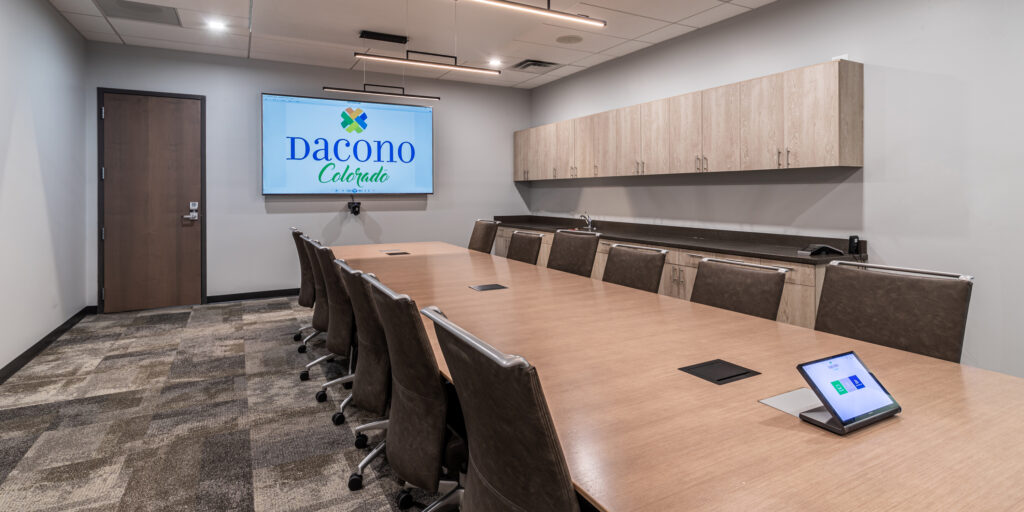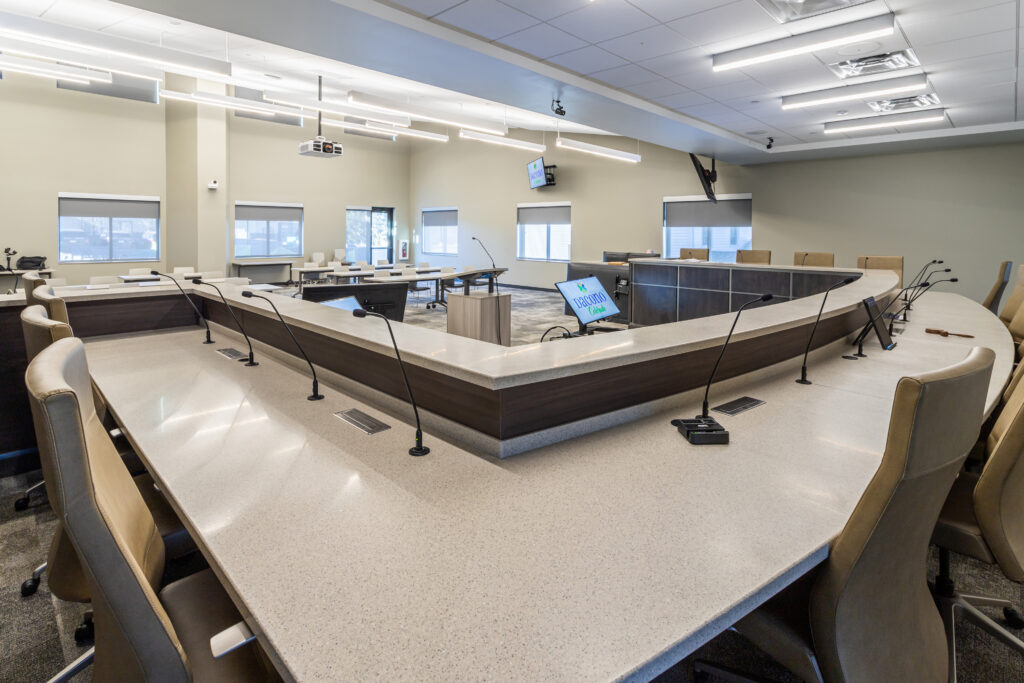 Shure and Ford AV offer robust meeting AV solutions that produce impactful meeting experiences. We empower seamless collaboration between all meeting participants, regardless of location, without compromising quality, productivity, or presentation creativity.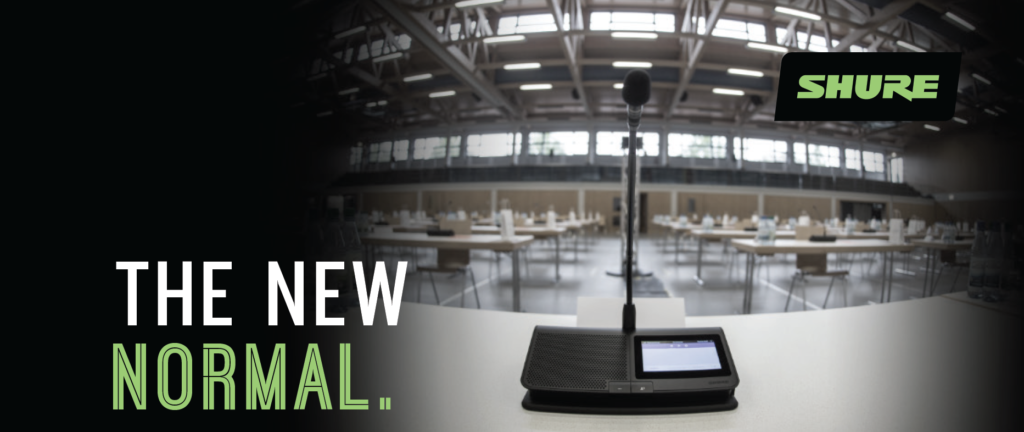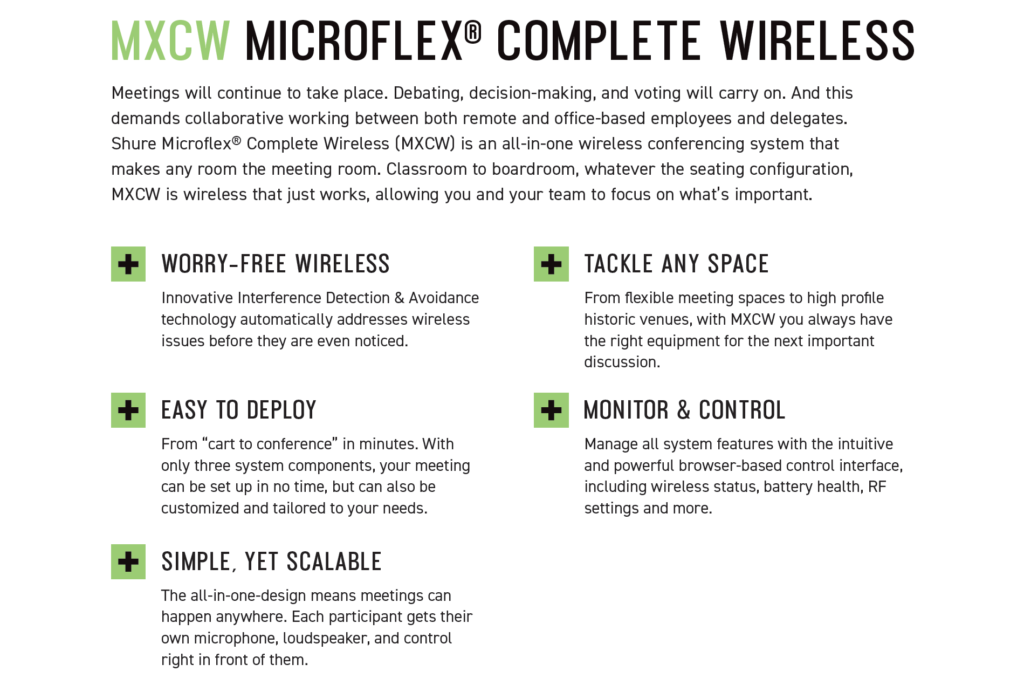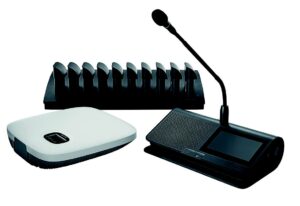 Ford Audio-Video keeps your communications moving forward
System design, installation, training, and service
Installation of display panels, interactive touch controls, projectors, and screens
Feature-rich microphones, cameras, and speaker solutions
Let's Get Started!